Monsanto and PCBs (cont.)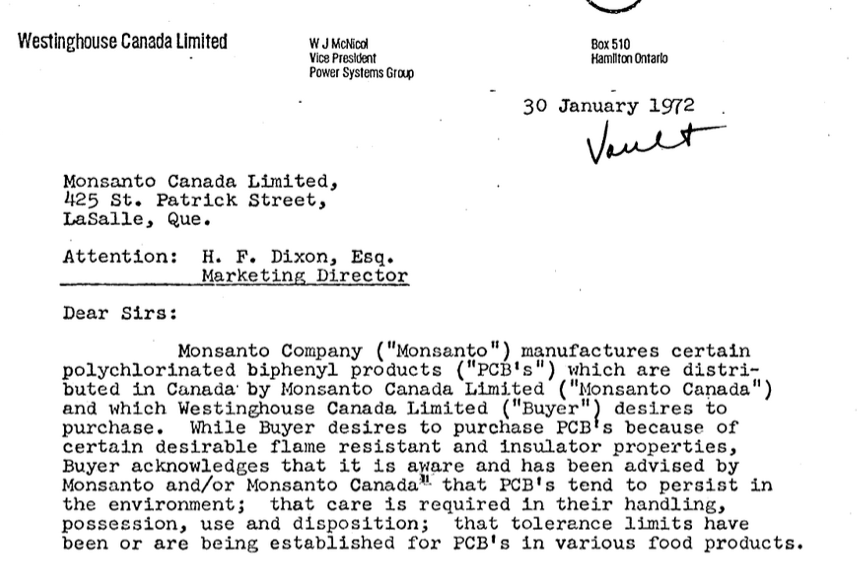 Read the correspondence between the marketing director of the Monsanto Company and the vice president of the electric corporation Westinghouse Canada Limited about PCB's:
"Accordingly, Buyer [Westinghouse Canada Limited] hereby covenants and agrees that, with respect to any and all PCB's sold or delivered by or on behalf of Monsanto or Monsanto Canada to or for the account of Buyer on or after the date hereof, and in consideration of any such sale or delivery, Buyer shall defend, indemnify and hold harmless Monsanto and Monsanto Canada, its present, past and future directors, officers, employees and agents, from and against any and all liabilities, claims, damages, penalties, actions, suits, losses, costs and expense arising out of or in connection with the receipt, purchase, possession, handling, use, sale or disposition of such PCB's by, through or under Buyer, whether alone or in combination with other substances, including, without implied limitation, any contamination of or adverse effect on humans, marine and wildlife, food, animal feed or the environment by reason of such PCB's."
Check out this document to read the full correspondence between Monsanto and Westinghouse Canada Limited.