Roundup Cameo in Toxic Docs
This week, a California jury found Monsanto liable in a case around its weed killer Roundup. A groundskeeper claimed exposure to Roundup contributed to development of his cancer. It ordered Monsanto to pay $289 million.
The debate over Roundup and glyphosate, its chief ingredient, will continue for years, along with lawsuits similar to this one.
At Toxic Docs, we focus on toxic substances where the epidemiological consensus between exposure and outcomes is much more widely known.
But that doesn't mean other toxic substances don't make cameos into our documents.
Here's an example from our 25,000+-document collection on Monsanto. In this 1995 memo, Monsanto discusses Roundup as part of a larger image rehabilitation campaign. It reports on the product's successful use in the Galapagos Islands -- of all places -- and suggests that it be highlighted to improve the company's image.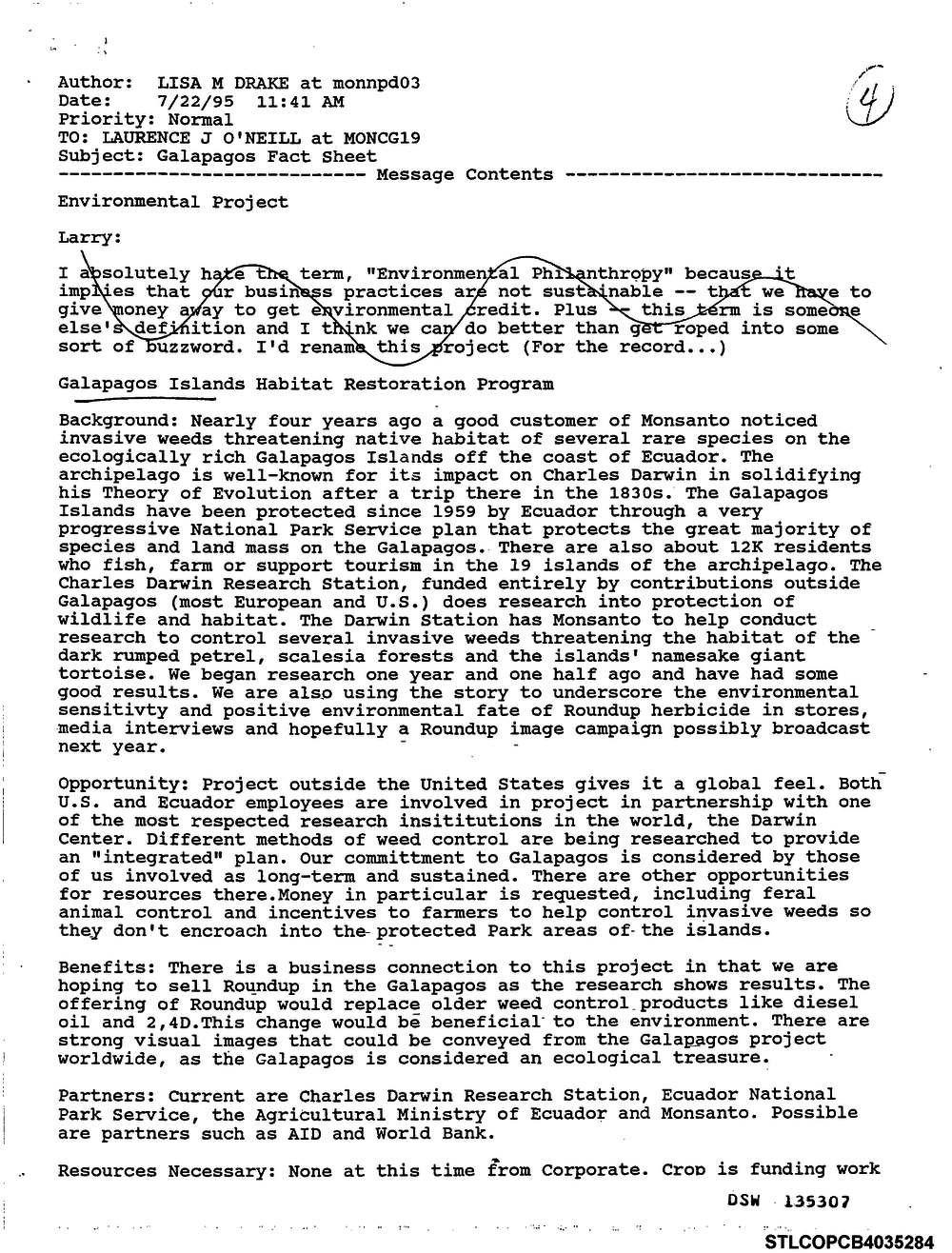 From the memo:
The Darwin Station has Monsanto to help conduct research to control several invasive weeds threatening the habitat of the dark rumped petrel, scalesia forests and the islands' namesake giant tortoise. We began research one year and one half ago and have had some good results. We are also using the story to underscore the environmental sensitivty and positive environmental fate of Roundup herbicide in stores, media interviews and hopefully a Roundup image campaign possibly broadcast next year.
It then concludes by discussing the business benefits of such a move as well:
Benefits: There is a business connection to this project in that we are hoping to sell Roundup in the Galapagos as the research shows results. The offering of Roundup would replace older weed control products like diesel oil and 2,4D.This change would be beneficial' to the environment. There are strong visual images that could be conveyed from the Galapagos project worldwide, as the Galapagos is considered an ecological treasure.