How Monsanto Shaped the Media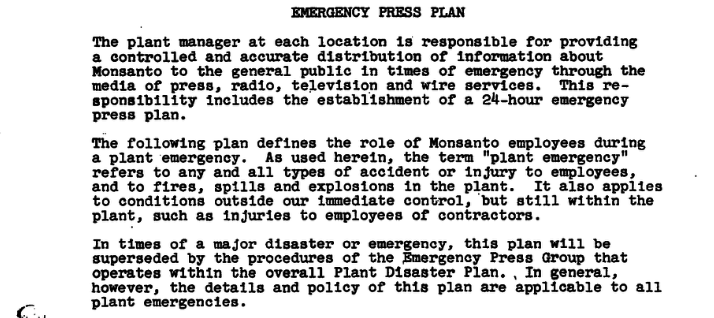 In November of 1957, Monsanto issued an Emergency Press Plan to control, structure, and shape news regarding their factories, products, and other incidents relating to the company. Controlling information, especially in crisis, was power, and Monsanto officials understood this very well.
What seemed like a minor, internal company directive that was issued in the late 1950s reflected a continued and progressively planned approach by Monsanto, as they realized that local concerns about clean air, water, and garbage were growing in cities across the US.
We have highlighted previously how the lead industry placed a lot of importance on advertising. This Emergency Press Plan serves as another attestation to the crucial significance of media and its images in forming public opinion regarding these toxic substances.
In this memo, Monsanto tried to control the distribution of information through "press, radio, television and wire services."
In order to do this, only one person was allowed receive inquiries and give information to the press: the Information Chief.


Every Monsanto employee was implicated in maintaining this image by reporting it, and making sure the information chief responded through a strictly maintained and centralized hierarchy of information gathering and emergency response.
By directing all information about any plant emergency through one trained, briefed official, Monsanto got to control the story. And it tried to paint themselves in a good light for decades. As some other documents point out, Monsanto, and companies similar to them continually declared to the media that they were taking all the steps to follow federal protocols and funding research studies to promote safer work environments, although privately they fought new regulations and restrictions on their products.